DigitalCameraInfo.com have reviewed the Panasonic Lumix DMC-FZ3
Digital Camera
, a stylish and feature-rich super-zoom model. They write: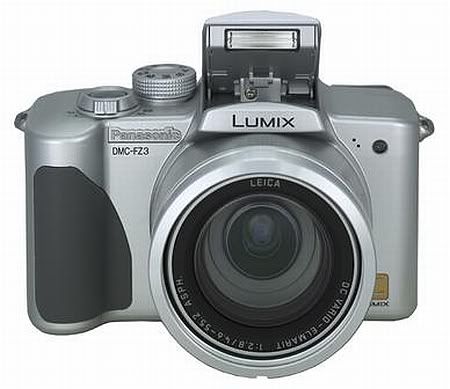 The Panasonic Lumix DMC-FZ3 is an attractive SLR-shaped camera with 3.1 effective megapixels and a 12x optical zoom lens. At a retail price of $399, this camera is one of the cheapest offered models carrying image stabilization. This is a great option to have when stranded without a tripod or when shooting with the FZ3's 320 x 240 movie mode. The digital camera employs a 1/3.2-inch CCD with 3.34 total megapixels and a primary color filter along with a strong, Leica 35-420mm (equivalent) zoom lens. The silver-colored camera is designed with simplicity in mind, but still has plenty of manual control options available. With nice touches like the diopter adjustment and color temperature adjustments on the white balance, the Lumix FZ3 is sure to please intermediate to advanced digital photographers. The FZ3 doesn't shut out beginners though. It also has a Simple Mode that automates all of the controls except image size, marketing the camera to an array of users of all levels.
The body of the Panasonic Lumix FZ3 has a simple design that belies its advanced features. There is an exposure mode for everyone: a "simple" mode for point-and-shooters and a manual mode for more advanced users. The large 12x optical zoom lens with image stabilization is likely to attract both point-and-shooters who want to invest in their camera and the journeyman audience looking for a large lens without paying the price for a digital SLR. The 3.1-megapixel FZ3 is shaped like an SLR, but is not as bulky. That said, it is not as compact as most digital cameras; it cannot fit into a pocket. The FZ3 retails for $399, which is a good deal for the extensive manual functions. This model has more expensive siblings in the Lumix line, each with more megapixels and better cosmetic features (such as larger LCD screens) but the essential manual and automatic functions remain the same.
Click to read the rest of this article...