The Olympus Stylus
Verve
Digital is a lot smaller than I imagined when I saw one of these recently, the four megaxpixel camera with unique styling and a 'weatherproof' exterior is reviewed today at DPReview. Find out how it did in their review.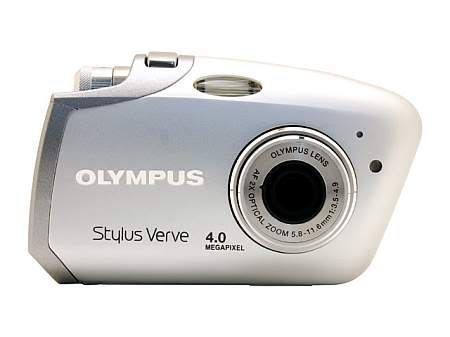 As a straightforward point-and-shoot camera the Stylus Verve does a perfectly good job at a competitive price point. The splash proofing alone will be enough to recommend it to some potential purchasers, and the simplicity of operation will endear it to first time users. I personally like the design, but I know not everyone shares this opinion. It's nice to see Olympus at least trying - albeit in a small way - to offer an alternative to the sea of look-alike silver boxes on the market.

So then, we have a camera with more than a touch of class, and one capable of results 'straight out of the box' that will print nicely and have the 'punchiness' popular with non-enthusiast users. It's nicely designed, nicely made and easy to use. And in fact it would be a real winner but for a couple of niggles; the poor battery life and slow flash recycle for one thing, the wealth of competitor models offering more for your money for another. If you want a splash proof, easy to use camera that won't have you reaching for Photoshop to rescue every shot, the Stylus Verve may just be the camera you're looking for, and one we would certainly recommend you take a closer look at.
Click to read the rest of this article...