DigitalCameraInfo.com has a first impressions review of this sleek machine.
The D-630's polycarbonate body is brushed silver in color, measuring 3.1 x 2.4 x 1-inches. Weighing just 4.4 ounces, the Olympus D-630 is incredibly light and compact. The point-and-shoot digital camera is one of the sleekest cameras available by Olympus and definitely takes the prize for the D series. Its sexy design and petite form offer a strong aesthetic appeal to the eye. The lens bows from tradition with the smaller glass portion off-center from the lens barrel. It looks slightly odd at first, but the rotating motion in which it opens and closes contributes to the overall modern look of the camera.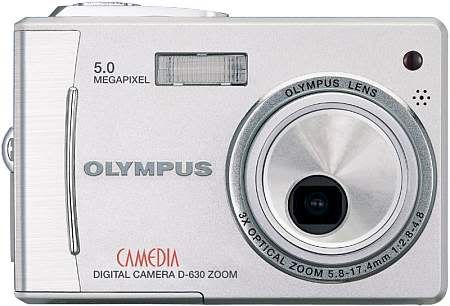 The Olympus D series is tailored for point-and-shoot users who don't want to be bothered with manual adjustments to capture impressive images. The 5-megapixel Olympus D-630 debuts as the new top-of-the-line model with more resolution and increased ease of use with an added Help Guide. A 3x optical zoom lens rotates into place, giving the camera a modern and sleek look, unique in the D series. At 4.4 ounces and only an inch wide, the D-630 provides consumers with a slim, no-fuss digital camera that's as easily portable as it is to use. There are no manual options included on this Olympus Camedia model; the focus is more on automatic settings and user friendliness.
Read Emily's review here...