Digital Camera Resource Page have posted their review of the Olympus D-535 Zoom. I don't get the feeling they were very impressed. Here are a few of their comments: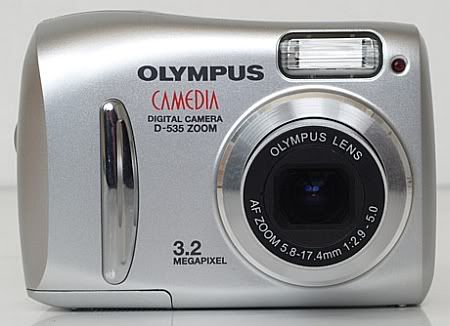 I had high hopes for the Olympus D-535 Zoom. I was hoping that Olympus wouldn't skimp on features to keep the price down. The results are mixed. Olympus did manage to put a 3X optical zoom lens and high resolution (but small) LCD display on the camera. At the same time, they took out useful features like white balance and an optical viewfinder, making the camera more frustrating to use than fun.
The D-535 is a point-and-shoot camera -- perhaps too much so. The menus are stripped down with nearly no options. The biggest omission is white balance controls; indoor photos will not turn out well since the auto white balance doesn't do a great job. Outdoors, the photo quality is decent but not spectacular. Photos are a little soft, with some muddy details. Redeye was also a bit of a problem.
The camera features a 3X optical zoom lens, a nice treat considering the camera's $150 price tag. Something else that's nice is the build quality of the D-535 -- it doesn't feel cheap. The camera has a 1.5" LCD display with good resolution; a larger screen would've been nice, but I don't think there is room on this compact camera's body. In addition, there's no optical viewfinder, which bothers some people (like me) and not others. Low light shooting isn't easy, as the screen doesn't "gain up" much in those situations, and the camera does not focus well. Camera performance is below par, with noticeable shutter lag, long shot-to-shot times, and sluggish image playback. And finally, the camera's silent movie mode isn't terribly exciting.
The bottom line is that I wasn't thrilled with the D-535 Zoom. If the camera had white balance controls I would've been a lot more positive, but alas it does not. My advice is to spend a little more money to get a more capable camera.
Click to read the rest of this article...