Nikon
has today announced a totally unique new feature which is available in their new Coolpix 7900, 5900 and 7600 compact digital cameras.
Face-Priority
AF is available in Portrait Mode and when active can identify facial features in the live view and activate auto-focus on these areas. This new feature was developed in conjunction with Identix and their FaceIt technology.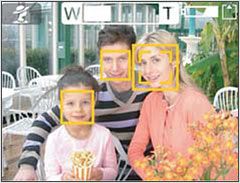 Face-priority Auto Focus Industry Leading Technology Featured in New COOLPIX 7900, 5900 and 7600, Compact Digital Cameras
Tokyo - Nikon Corporation is pleased to announce an exciting new technology that makes it easier to take high-quality, sharply focused portraits. Called
Face-priority AF
(Autofocus), this technology is an industry first and will be initially available on the new COOLPIX 7900, the COOLPIX 5900 and the COOLPIX 7600 compact digital cameras.
Nikon's newest built-in technologies have set a trend that helps make better pictures with less effort a reality; they're for making picture taking easier and more effective. While built-in automation has long assured good results, Nikon's introduction of a new generation of industry leading built-in automatic technologies such as One-Touch Transfer button, In-Camera Red Eye Fix, Scene Assist and D-Lighting facilitate even better results and easier operation. With these newest built-in technologies, the fix is in the camera, and with the announcement of Nikon's next leadership built-in technology, the next level of exciting picture taking will be achieved.
The
Face-priority AF
function uses the latest digital technology to automatically detect a person's face at typical portrait taking distances, then, operating based on real photographic techniques, activates autofocus to focus upon the face area!
Nikon and Identix worked in partnership to develop Face-priority AF (Autofocus), a state-of-the-art photography feature that uses the latest digital face finding technology from Identix to automatically detect human faces in the scene, and to automatically adjust camera settings - such as focus and gain - to produce optimal images of the faces irrespective of background, lighting or other viewing conditions. The Face-priority AF feature will initially be available with Nikon's COOLPIX 7900, COOLPIX 7600 and COOLPIX 5900 models. The licensing agreement between Identix and Nikon covers production for the entire COOLPIX camera line, which is expected by Nikon to be in the multimillions of camera units. According to Identix President & CEO Dr. Joseph J. Atick, this license by Identix to Nikon represents the largest deployment to-date of FaceIt technology in a commercial application.
The face finding technology works in real time and it is able to control the auto-focus even if the person moves or the photographer recomposes the picture. The feature works effectively for both horizontal and vertical positions or even if the camera is tilted. The end result is a smarter camera eliminating the need for the user to manually adjust the settings, making the camera more user-friendly, more fun and easier to use.
Here's how it works: when you're ready to take a portrait, select the camera's Portrait Mode and Face-priority is automatically activated. A special digital detection program will scan for facial details and then control autofocus operation based on the location of the detected face in the scene. Even if the subject moves, or as the photographer recomposes the picture, Face-priority AF will respond and keep focus on the subject's face. Manual techniques that formerly required the photographer to use focus lock can be avoided in favor of the new automation of Face-priority AF. It's faster, responsive to creative composition, and makes portrait picture taking easier than ever.
Click to read the rest of this article...