DPReview
is reporting that Nikon has today announced an upgraded version of their high speed shooting D2H professional digital SLR. The new D2Hs features a range of improvements which have come out of the development of the D2X as well as specific improvements to the D2H design. Highlights; 8 frames per second shooting for up to 50 JPEG or 40 RAW images, 12 bit ASIC processing, WT-2 wireless support (802.11b/g, PTP/IP), improved AWB, 3D Matrix Metering II, higher resolution 'flicker free' LCD monitor, modified vertical shooting buttons, sYCC color space support and more. The D2Hs will be available in March with an MSRP of $3499.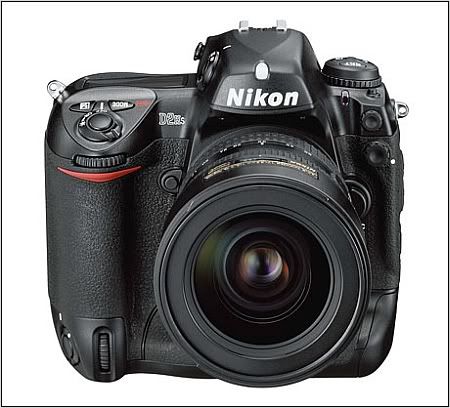 Click here for DPReview's Nikon D2Hs preview
The professional digital SLR for action and sports, featuring ultra-high speed, high image quality, and maximum efficiency
TOKYO – Nikon Corporation is pleased to announce the introduction of a professional digital SLR camera that delivers high speed, high precision, and improved handling for action photography: the Nikon D2Hs.
Since the launch of the D1 series and successful introduction of the Nikon DX Format in 1999, Nikon has been conducting extensive research into the needs of photographers in every field and discipline. This research, coupled with painstaking analysis of feedback from Nikon users worldwide, has led to a string of technological and design innovations for the Nikon DX Format aimed at enhancing system performance for the serious photographer.
Capable of shooting at 8 fps for a continuous burst of up to 50 images at 4.1 effective megapixels, the D2Hs inherits the best of its predecessors while also benefiting from new technologies and feedback from advances made in developing the recently announced D2X digital SLR for professionals. This impressive array of exclusive features deliver the speed, response, resolution and handling to establish the D2Hs as the professional's choice in photojournalism and sports photography.
Click to read the rest of this article...