Nikon has today announced its second seven million pixel camera the Coolpix 7900 and an almost identical 5.1 million pixel twin, the Coolpix 5900. Both cameras have a large 2.0-inch LCD and feature a Help button for explanation of menu functions, plus a 3x optical zoom offering a focal length equivalent of 38 - 114 mm. The pair also feature Face AF, like the Coolpix 7600, for focusing when using portrait mode. The 7900 is available in black and silver while the 5900 is available in silver. The Coolpix 5900 is due for release this month, and the Coolpix 7900 is scheduled for release in March. An underwater housing, WP-CP 4, is also available in Europe.
Two highly sophisticated, high-quality compact digital cameras with a wealth of easy-to-use features and the ability to achieve exceptional results.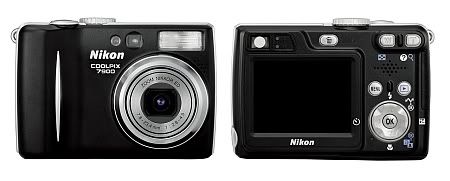 Tokyo — Nikon Corporation is pleased to announce the introduction of the COOLPIX 7900 and COOLPIX 5900. Two superior quality compact digital cameras with the power to take highly impressive images, they also feature appealing exterior designs and boast a range of convenient functions and features that are highly advanced, yet easy to use.
For easier composition and anytime viewing, the COOLPIX 7900 and COOLPIX 5900 feature a large 2.0-inch amorphous silicon TFT LCD monitor. Bright and clear, this makes it easy to view images at any time. It also makes it much easier to navigate the new Graphic User Interface (GUI), which has been specially designed to allow the user to select functions on the main menu by either name or icon. There's also a Help button, which can be pressed to display a straightforward explanation of each function on the main menu and the cameras can be configured to display the menu in a choice of 11 languages.
For impressive imaging performance, the COOLPIX 7900 and COOLPIX 5900 both feature a 3x optical Zoom-Nikkor ED (Extra-low Dispersion) lens with a focal range equivalent to that of a 38-114mm lens in 35mm format. They also offer the imaging advantages of 7.1 and 5.1 effective megapixels respectively and a 1/1.8-inch CCD. As a result of these factors, impressive quality is retained even when images from the COOLPIX 7900 are enlarged to A3 dimensions and when images from the COOLPIX 5900 are enlarged to A4 size.
Click to read the rest of this article...