Kodak has today announced two new five megapixel additions to the Z-series, which include the 10x zoom EasyShare Z7590 and EasyShare Z730. The SLR-like Z7590 offers manual and automatic exposure and features a Schneider-Kreuznach Variogon 10x optical zoom lens (38 – 380 mm equiv). The second zoom lens compact offers a 4x optical zoom (33-132 mm equiv), a 2.2-inch LCD and is powered by a lithium battery. Both available in May, the Z7590 will cost £349.99 (approx $546) and Z730 will cost £199.99 (approx $312).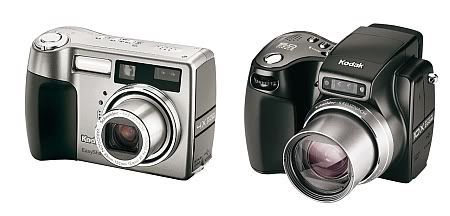 Z-Series Designed to Bring Everyday Picture Takers Closer to their Subjects
London, February 20 — Eastman Kodak Company today announced two additions to the new line of KODAK EASYSHARE Z-Series digital cameras, which now features four models with extended optical zoom lenses up to 10X. The KODAK EASYSHARE Z-Series cameras help everyday picture takers get closer, better, more creative shots.
The new KODAK EASYSHARE Z7590 (10X optical zoom, 5 megapixel resolution, (£349.99 RRP) and Z730 (4X optical zoom, 5 megapixel resolution, £199.99 RRP) digital cameras combine fast-performing, point-and-shoot flexibility with the photographic control achieved through extended optical zoom lenses. They join the previously announced EASYSHARE Z740 and Z700 cameras, which are now shipping.
"People are realising that the secret to a great digital picture isn't just about the number of megapixels in the camera," said Mary Hadley, director of worldwide digital capture marketing at Kodak. "EASYSHARE Z-Series cameras bring extended zoom capabilities such as more flattering portraits and capturing detail from afar — until now the domain of higher-end digital cameras — to more people."
KODAK EASYSHARE Z7590 zoom digital camera
The KODAK EASYSHARE Z7590 camera is ideal for people who want to further experiment with photography using a fast performing digital camera that includes both automatic and manual settings. Specifically, the Z7590 model offers a professional quality SCHNEIDER-KREUZNACH VARIOGON 10X optical zoom lens (38 – 380 mm equivalent) for outstanding dynamic range, fine detail and delicate highlights, and it is the first Z-Series camera to feature flash sync connection. Further, the camera is equipped with a live histogram, which enables users to see the exposure of their subject before taking the shot. Additionally, the exclusive KODAK Colour Science chip results in portraits with edge-to-edge sharpness and brightness, rich colour, and highly accurate exposure.
The EASYSHARE Z7590 camera will be available worldwide beginning in May 2005.
KODAK EASYSHARE Z730 zoom digital camera
Designed for "zoom seeking" picture takers, the fast-performing KODAK EASYSHARE Z730 digital camera incorporates advanced features that offer outstanding performance without sacrificing ease of use. The professional quality SCHNEIDER-KREUZNACH VARIOGON 4X optical zoom lens (33-132 mm equivalent) allows greater photography experimentation and more range than with a comparable 3X optical zoom. In addition, a 2.2-inch, high-resolution LCD screen can be used to preview and instantly review shots. Continuous auto-focus delivers rapid click-to-capture (0.2 second), precisely freezing action at a desired moment, while the lithium-ion battery delivers extended shoot times and rapid recharging.
The EASYSHARE Z730 camera will be available worldwide beginning in May 2005.
Read the full article here...