Like your cameras slim and sleek? Then the Fuji FinePix Z1may be for you. Fujifilm has a history of developing digital cameras that look as stunning as the pictures they take. Today, the company added to its fashionable digicam legacy with the introduction of the 5.1 MegaPixel FinePix Z1, a slim and stylish digital shooter that is the perfect accessory for a night out on the town. Personally, I think cameras like this will probably capture 5 MP of blurred images. A fixed lens this small just isn't going to compete with a prosumer style camera. OK for the carrying around in the purse I guess, I just wonder why so many megapixels?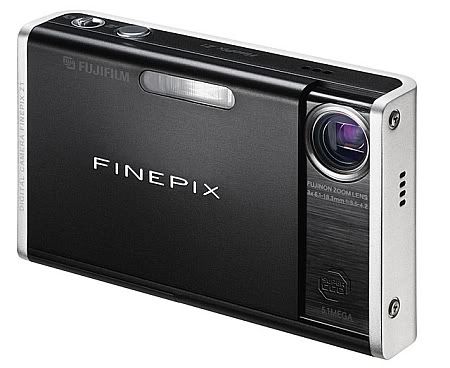 The saying goes that one doesn't get a second chance to make a first impression. That shouldn't be a concern with the FinePix Z1 as its sleek and strong all-metal body is sure to draw attention. Available in two colors -- a deep, sophisticated black and a stunning brushed silver -- the FinePix Z1 is as trim as they come in the world of digicams, measuring a mere 18.6 millimeters thick – thinner than a deck of cards. This slenderness, which is possible thanks to a non-extending, refractive 3x optical zoom lens, allows the camera to stow easily in a pocket or small handbag for quick access when those special moments with friends occur.
Regarding the issue of LCD-only scene capture on the FinePix Z1, Ron Gazzola, Marketing Manager for Fujifilm's Digital Devices Division, commented, "Fujifilm U.S.A. conducted extensive consumer research concerning LCDs and our findings showed that with a palm-sized
camera, consumers feel comfortable framing their pictures solely with a LCD as long as the monitor is large, durable and performs well in low light. The advanced LCD of the FinePix Z1 has it all and should be an attractive feature on an already attractive camera."
Full specifications can be found below, but here are a few key facts about the FinePix Z1:
* Effective 5.1 MegaPixel
* 5th-Generation Super CCD HR
* Non-extending, refractive 3x optical zoom
* Large and bright 2.5" LCD with scratch-resistant coating
* Super-sleek flat design
* Real Photo Technology for low noise at ISOs as high as 800; fast shutter speeds prevent blur in low or natural light scenes
* 0.6-second boot-up time; shutter lag down to 1/100th second after AE/AF locked; High-Speed Shooting mode provides quicker auto exposure and focus lock for even faster operation
* June 2005 availability; manufacturer's suggested retail price (M.S.R.P.): $449.95
Click to read the rest of this article...