HP has today announced a BMW Williams F1 Team version of the four megapixel R607. The metal bodied-camera boasts a 3x zoom, eight shooting modes, a 6cm macro function and HP Adaptive Lighting technology plus in-camera red-eye removal. The special edition camera also features HP image advice for instant analysis and ideas on how you can take better photos. It comes with a customized BMW camera case and is expected to ship in May priced $349.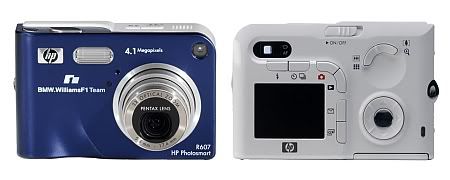 Take great photos at 4.1 MP resolution that make beautiful prints and enlargements up to 11x17 inches. Capture virtually any moment, near or far, with eight shooting modes and 21x total zoom (3x optical Pentax lens, 7x digital) with the small but mighty HP Photosmart R607 digital camera with HP Instant Share. Exclusive HP Adaptive Lighting technology, when enabled, reveals details in shadowed faces or in the background of high contrast photos. In-camera red-eye removal eliminates red-eye without additional flashes or software touch-ups. Learn to take great photos with the least amount of effort using HP Image Advice. Snap a photo and select on the camera where it will go the next time you dock or connect to your PC using HP Instant Share—the easiest way to send photos via e-mail without burdening receivers with large file attachments. Optional dock charges two lithium ion batteries (in-camera and included spare) and enables digital photo slide shows on TV with a remote.
Read the full article here...