This camera has my vote just for the really cool shape; something Fuji is really good at.
Fujifilm Japan will today begin shipping a new digital camera model that features infra-red connectivity for use with the new Fujifilm MP-100 'Pivi' infra-red photo printer.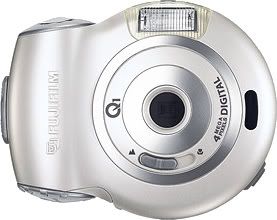 The Fujifilm Q1 DIGITAL 4.0 Ir shares a body similar to that in Fujifilm's Q1 compact APS film cameras, but with the optical viewfinder removed in favor of a 1.5" LCD display. The camera also features a four megapixel CCD imager and 46mm-equivalent fixed focus, fixed focal length, and fixed aperture lens.
While the APS film camera on which it is based is available outside Japan, no plans have been announced to ship the digital variant elsewhere at this time. Pricing has not yet been announced, but the Q1 DIGITAL will reach stores in Japan from today.
Click to read the rest of this article...