Steve's digicams
has posted his review of this much anticipated new model from Fuji, the S3 Pro. To many, this is
the
bellwether DSLR.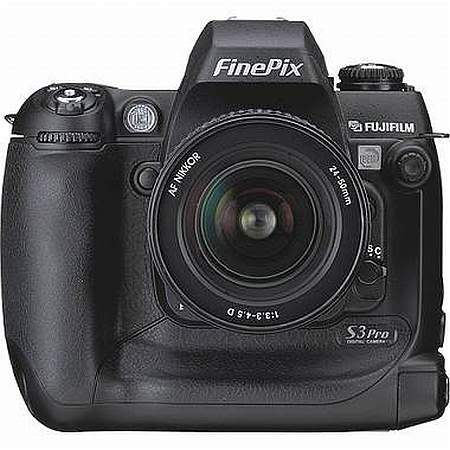 The FinePix S3 Pro features a 12.34 million effective pixels Fujifilm Super CCD SR II image sensor designed specifically for professional photography. It creates a wider dynamic range to produce images that approach true photographic quality. As a result, the S3 Pro will capture highlight and shadow detail often lost by digital cameras in high contrast scenes. In addition, Super CCD SR sensor technology provides a higher level of sensitivity, improved signal-to-noise ratio and more natural color reproduction.

The S3 Pro was developed with significant improvements in versatility and ease of use. Dual shutter release buttons are provided for both landscape and portrait compositions, and dual LCD data displays confirm shooting settings and composition at a glance, without the need to scroll through menus. In addition, the body has been sculpted and rubberised to provide a solid grip.

The quality of the S3's uninterpolated 6-megapixel Fine images with standard settings was excellent, almost calling into question the need for its extra features. Exposures were spot on, and the standard sharpness, contrast and saturation settings produced usable JPEG's right out of the camera. Use the FUNC menu to step up to 12-megapixel images and quality remains very good, with artifacts from interpolation only visible in areas of fine detail. Noise was not an issue up to ISO 400. Image noise becomes detectable in shadow areas at ISO 800; at ISO 1600 it is noticeable in shadow areas, but highlights remain largely noise-free and the images are quite usable.

Click to read Steve's extensive review...