James Murray from DigitalCameraInfo.com has posted his review of the Fujifilm FinePix F440 Digital Camera.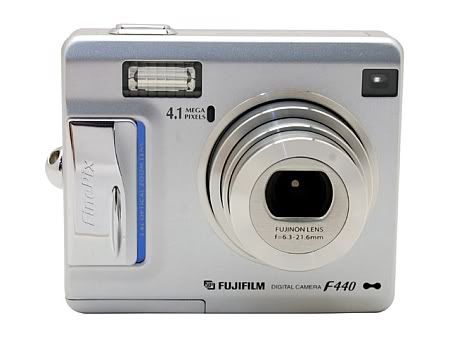 He writes:
"In the FinePix F440, Fuji has produced a point-and-shoot camera that is stylish and incredibly compact, while including a wide variety of image quality settings and options. The F440 has 1/2.5" 4.1MP Super CCD, 2.0 inch LCD screen, and a real image optical viewfinder. It is possible to record movies in two formats, with audio recorded through a monaural microphone. Playback is available with several options for both still and video recordings. This expansive camera is small and sleek with a sensible layout, while remaining relatively inexpensive. Currently available for $249.95 (USD) online, the F440 is a strong competitor within the introductory digital camera market.

-Small and compact size
-Intuitive Layout with clear buttons and controls (even on such a petite model)
-Strong and durable, with a nice sized LCD screen

With the Fujifilm FinePix F440, the consumer receives a 1/2.5-inch, 4.1MP CCD, with a petite camera body that is small enough to comfortably fit within the user's pocket. This camera has hybrid capability at the most basic level, with a monaural speaker for real time audio recording. The user can record to the included 16 MB x-D memory card, but will get no internal memory. It is possible to record in up to six different format ratios. The user can control exposure and white balance settings, along with ISO, but otherwise, manual controls are minimal. The power switch is finicky and unresponsive but the other controls are logical and intuitive, small as they may be. There are two separate menus, one for shooting, and the other for overall camera control. The layout would be greatly improved if the ISO setting was moved to the shooting menu. However, all in all, if the user is seeking an inexpensive, point-and-shoot camera at $249.95 (USD) with video/audio potential and direct print capabilities, this camera is a contender, especially to those who prefer a slim and concise model."

Read the full article here...