Epson Stylus Photo R1800 Printer Produces 13" Glossy and Matte Photos for Digital Photographers That Can Last 100 - 200 Years
LONG BEACH, Calif.--Feb. 14, 2005--Introducing the latest ground-breaking digital photography product from Epson, designed to become "the" printer of choice for photographers seeking the best image and archival quality for both glossy and matte photos. The Epson Stylus(R) Photo R1800 offers digital artists a wide selection of photo printing features, extremely fast print speeds and a high level of enduring image quality up to 200 years(a) that will advance their photographic skills and creativity to new levels.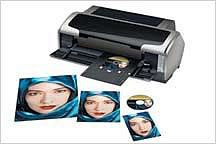 Based on the award-winning letter-size-format Epson Stylus Photo R800, the Epson Stylus Photo R1800 takes advantage of the same Epson UltraChrome Hi-Gloss(TM) eight-color pigment inks and is capable of making photo quality prints up to 13 inches wide and 44 inches long. This is Epson's fastest photo printer to date, capable of printing an 11"x14" color image in less than two minutes(b). Never before has there been a 13-inch-wide format archival printer offered as low as $549 (manufacturer suggested retail price).
"The explosive popularity of digital photography in recent years is giving birth to a whole new generation of digital photographers and artists with discerning tastes and complex media needs," said Patrick Chen, product manager, photo imaging,
Epson
America. "The Epson Stylus Photo R1800 addresses these customers by giving them the ability to quickly print stunning images on either glossy or matte surfaces in a wide variety of sizes that will resist fading for as long as one to two centuries."
Read the full article here...