Digital Camera Resource Page
has an extensive review of the Canon PowerShot A510 and A520 cameras. A few excerpts below: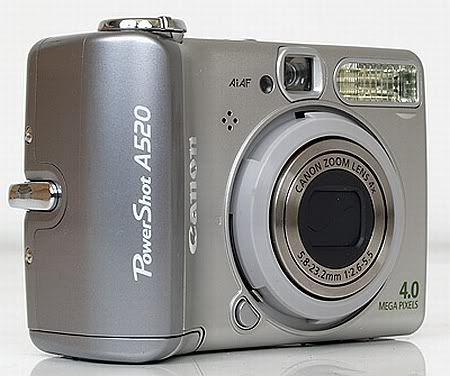 Two of the hottest digital cameras of 2004 were the Canon PowerShot A75 and A85. Both were superior to the competition thanks to their picture quality, full manual controls, and expandability. For 2005 Canon has gone even further with their replacements, the A510 ($199) and A520 ($299). Instead of slapping new model numbers on the same old thing, Canon reinvented the A75 and A85 with some great new features, which include:
* 4X optical zoom lens (versus 3X on the old models)
* Smaller, more compact body
* Built-in "zoom flash" (more on this later)
* Support for an external slave flash
* Uses SD/MMC memory cards (versus CompactFlash)
* Uses two AA batteries (instead of four)
Despite being smaller than their predecessors, the A510 and A520 offer a bigger zoom lens. Where most cameras have 3X zoom lenses, the A-series models offer a 4X zoom. Not satisfied with that? The cameras support wide-angle, telephoto, and close-up conversion lenses. A new optional feature on these models is an external slave flash, which attaches to the side of the camera. For people who take a lot of flash shots, this may be worth the $100 price. While the A-series cameras offer a new "zoom flash" feature, that doesn't necessarily translate into better flash range. It does, however, focus the light on the subject while you're shooting at the telephoto end of the lens.
In conclusion, I can highly recommend the A510 and A520 to most people. However, those who take a lot of photos in dim lighting (and by that I don't mean interior lighting, I mean darker than that) or fans of redeye-free photos may be frustrated with either of the two cameras. To be fair, most of the competition has the same problems, but since the old models didn't have these problems, I'm going to knock Canon for it. If the cameras seem like a good fit for you, then check'em out.
Read the full article here...