How about packing 7.2 Meagapixels into a digital camera less than an inch thick and only 4.5 ounces! Add to that the ability to take over 300 shots per charge and full manual control. I'd love to buy something like this that I can carry around in my front pocket. You see, I like to carry a camera everywhere I go (and I don't think I'm the only one).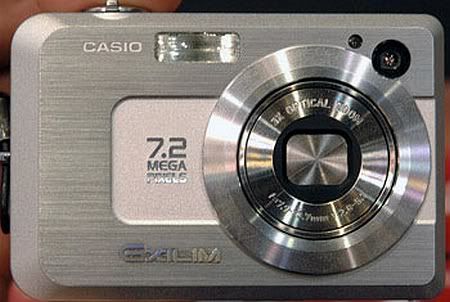 This first impressions review comes to us from
DigitalCameraInfo
The Casio Exilim EX-Z750 exhibits a traditional aluminum camera body, casing a 3x optical zoom and 7.41 total megapixels on its 1/1.8-inch CCD. The width of the camera is a mere 0.9 inches, making it one of the slimmest digital cameras on the market. Although, the Z750 does lack the sexy look and appeal of the other Exilim models. With plenty of manual and automatic shooting settings, as well as several movie modes, the Z750 is a solid addition to the compact market. The 7.2 effective megapixel digital camera will be released in March 2005 for $449.99 worldwide.
Model Design / Appearance
The Exilim Z750 has more brains than brawn. It is not as attractive as other compact cameras, but has more megapixels and neat features than most. The body isn't ugly, but it is plain without being elegant. The Z750 has a silver-colored brushed aluminum casing with words printed randomly on it.
Size / Portability
The 4.5-ounce digital camera has slim measurements of 3.5 x 2.3 x 0.9 inches. Its flat features and slight profile make it easy to slip into a pocket and carry around without hassle.
The 7.2-megapixel Casio Exilim EX-Z750 packs a lot of power in a 0.9-inch thick compact camera body. While it isn't as attractive as some of the other Exilim models, it has a traditional brushed aluminum body that weighs only 4.5 ounces. The battery lasts an estimated 325 shots before needing a recharge, which is quite good for a digital camera, although many portable imagers now are surpassing that. With the high megapixel count, there are plenty of resolutions available for photographers who want to print large pictures and those who want to email files. The Z750 has helpful features such as an optical viewfinder and manual focus capabilities as well as some more dynamic and exciting features, such as Past Movie and ID Photo modes. The Casio Exilim EX-Z750 has plenty of manual control options, but users may have trouble accessing them. The Z750 isn't the most strait-forward camera to navigate, but with incentives like 7.2 megapixels and nearly 30 scene modes, this digital camera will turn heads when it comes out in March for a retail price of $449.99.
Read the full article here...