Another of four new Fuji cameras announced today, the FinePix F10 is a 6.3 MegaPixel Super CCD HR digital camera with Fujifilm's new Real Photo Technology for improved picture taking in low light situations, more efficient power consumption and faster overall operation.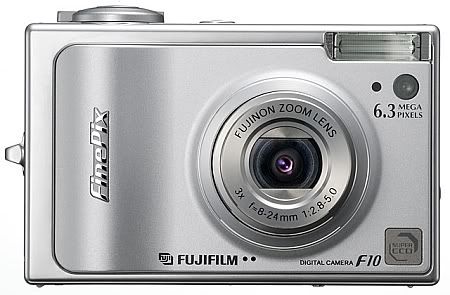 Real Photo Technology, the latest imaging innovation from Fujifilm, is a synergy of three key devices: a sharp Fujinon 3x optical zoom lens, Fujifilm's 5th generation Super CCD sensor and the newly developed RP Processor, which possesses all of the advance signal-processing know-how of the professional FinePix S3 Pro digital SLR camera. With Real Photo Technology users of the FinePix F10 can capture beautiful digital images with very little noise at ISO settings all the way up to 1600 at full resolution. This allows the photographer to shoot without a flash in the "Natural Light" scene position, preserving mood and reducing red-eye. Real Photo Technology also allows for higher shutter speeds that minimize blurriness in photos at even the highest ISO settings.
In addition, the FinePix F10 is fast – very fast, in fact -- on par with the industry-leading Fujifilm FinePix E550. It goes from off to ready-to-shoot in a blink of an eye: a mere 1.3 seconds. The FinePix F10 also takes the "lag" out of shutter lag, firing a scant 1/100th second after the auto exposure/auto focus locks. For even faster operation, a High-Speed Shooting mode speeds up the exposure and focusing processes, making the capture of moving subjects a snap. This operating speed instills confidence that even the most unexpected moments will be saved by the user in famous Fujifilm color.
Key, at-a-glance facts for the FinePix F10 include:
* Effective 6.3 MegaPixel
* 5th Generation Super CCD HR
* 3x optical zoom
* Large, bright 2.5-inch LCD
* Real Photo Technology for low noise at ISOs as high as 800 in Auto and 1600 in Natural Light mode; fast shutter speeds prevent blur in low light scenes
* 500 pictures per single full battery charge
* 1.3 second boot-up time; shutter lag down to 1/100th second after AE/AF locked; High-Speed Shooting mode provides quicker auto exposure and auto focus for even faster operation
* April 2005 availability; manufacturer's suggested retail price (M.S.R.P): $499.95
Click to read the rest of this article...