The final new cameras from Fuji are two entry-level models, the FinePix A345 and A350.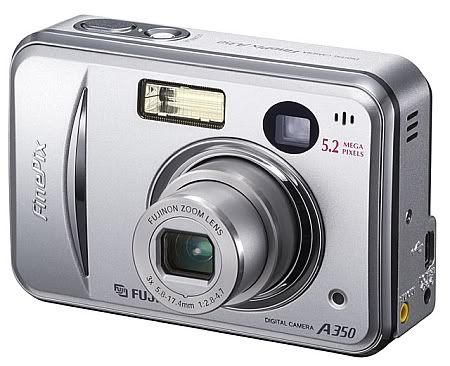 These newest additions to Fujifilm's diverse digital camera line usher in a new, more contemporary look for the popular A-Series cameras. Gone are the lens covers that defined earlier A-Series models and in their place sit new 3x optical zoom lenses that retract directly into the camera bodies for a smooth outer surface. This feature makes the FinePix A345 and FinePix A350 smaller and more compact than their predecessors, allowing them to slide effortlessly into a coat pocket or handbag for all-the-time camera accessibility.
Image quality and overall performance get a boost as well. The FinePix A345 and FinePix A350 have 4.1 MegaPixel and 5.2 MegaPixel CCDs, respectively, as well as new image processors for more robust color and quicker frame-to-frame shooting. Built-in, pre-programmed scene modes take much of the guesswork out of camera settings, and the new models possess LCDs larger than previous A-Series cameras for checking just-taken photos before sending them off for printing. As an added plus, captured movies now become "talkies" with the addition of sound to the cameras' video feature.
Both cameras will be available in March 2005. The FinePix A345 will carry a manufacturer's suggested retail price (M.S.R.P.) of $249.95 while the FinePix A350 will have a manufacturer's suggested retail price of $299 retail price tag.
Click to read the rest of this article...