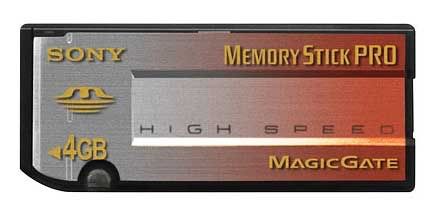 Sony
introduced a 4GB Memory Stick PRO flash media card at the Consumer Electronics Show (CES) in Las Vegas, last week. The new media is designed to store and easily transfer the very large digital image files that are generated by the latest high-resolution digital cameras.
It features increased durability and has a standard operating temperature range of from -13F to +185F. It's also compatible with a wide range of available Memory Stick PRO devices. The 4GB card will be available in March for around $900.
Sony also introduced a new PC Card Adaptor. The MSAC-PC4 Memory Stick PC Card Adaptor supports the Memory Stick and Memory Stick PRO media formats, giving users the ability to access their media through the PC Card type II slot of a notebook computer. It is expected to be available in February for around $70.