Emily Raymond
from
DigitalCameraInfo.com
has just posted her first impressions of Sony's P200 digital camera.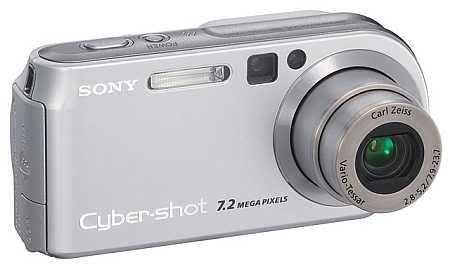 Sony Cyber-shot DSC-P200
She writes:
"The Sony Cyber-shot DSC-P150 was released in August 2004 for $499. The new P200 will be released in February 2005 and has similar features — including the 7.2 megapixels — but it will go for a hundred bucks less. For the cheaper price, you also get a larger LCD screen and a grip for the left fingers. This is one example of where it paid to wait out the price war. It appears the price per megapixel is dropping in general; $399 is a great price for 7.2 megapixels, but other manufacturers are following suit. The P200 is easy to use, comfortable to handle, and compact — everything a novice could ask for.

The ease of use and comfortable handling make this Cyber-shot model an attractive digital camera for the right type of user. The high megapixel count and larger 2-inch LCD make this camera an even better bargain at $399. The 7.2-megapixel Sony Cyber-shot DSC-P200 was announced at the Consumer Electronics Show in January and will be released to the consumer market in February 2005. The compact point-and-shoot has a Carl Zeiss Vario-Tessar 3x optical zoom lens that extends from the camera body when powered up. The P200 is easy to use for the style-driven beginner and only gets better with increased photographic knowledge and utilization of manual functions."
Read about the
Sony Cyber-shot DSC-P200