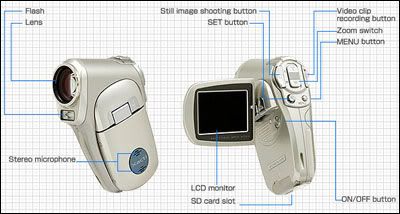 Another new camera announcement, this time from:
Dphoto Digital Photography
LAS VEGAS, JANUARY 4, 2005, CES, Booth #9834 It's easy to be spontaneous when shooting photos and video with the new Sanyo VPC-C4 Digital Media Camera.
A pocket-sized, high-resolution 4.0 megapixel digital camera and full-motion MPEG-4 camcorder, the Sanyo VPC-C4 offers built-in digital image stabilization for accurate, steady shooting. Users can choose real-time interpolation to convert the CCD's 4.0 effective megapixels to a recorded equivalent of 8.0 megapixels, ideal for clear printouts of large and detailed images. A trans-reflective 1.8-inch TFT LCD color monitor allows for easy shot framing and playback.
Following last year's successful introduction of the critically-acclaimed Fisher FVD-C1, the VPC-C4 is the first Digital Media Camera to be introduced in the U.S. market under the Sanyo brand name. It has also been selected for a prestigious 2005 CES Innovations Award. Manufacturer's suggested retail price is TBA. Availability is scheduled for 1st Half 2005.
Read the full article here...