DCRP
have posted their
review of the Olympus Stylus 500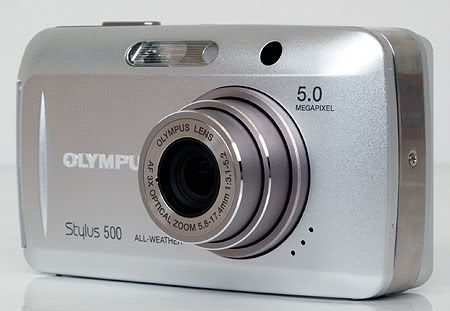 "The Olympus Stylus 500 is as compact point-and-shoot camera that looks good, resists water, is super-fast, and has some neat features. Unfortunately photo quality isn't as good as it should be. But first, the good news. This latest Stylus is compact (but not too much so), metal, and weatherproof. It can get a little wet, but that doesn't mean it can go snorkeling with you -- for that you'll need the optional underwater case. The Stylus has a large and sharp 2.5" LCD display that is viewable in both bright and dim lighting. Camera performance is very good for the most part, especially the startup speed -- wow. The camera doesn't have any manual controls, but you'll find plenty of scene modes to make up for it. Other nice features include in-camera cropping, special effects, and albums.
On the downside, the photo quality wasn't wondrous. Photos were well-exposed with accurate color and low purple fringing, but they were soft, with lots of fuzzy details. They'll be fine for smaller prints, but for larger sizes or 100% on-screen viewing you'll likely be disappointed. The camera doesn't have an AF-assist lamp, but it focused better than I would've expected considering that. Also missing is an optical viewfinder -- something I personally require, but many folks won't miss it. The plastic door over the battery and memory card slot is flimsy and opens way too easily -- a concern on a water-resistant camera like this. And finally, no Olympus camera review would be complete without a snippy comment about not including the full printed manual in the box -- so there it is.
Overall, I like a lot of things about the Stylus 500 -- I just wish the photos were better. If you want a smaller camera that doesn't mind getting a little wet, it's worth checking out."
Click to read the rest of this article...