The Imaging Resource
have reviewed the Minolta DiMAGE X50 and report: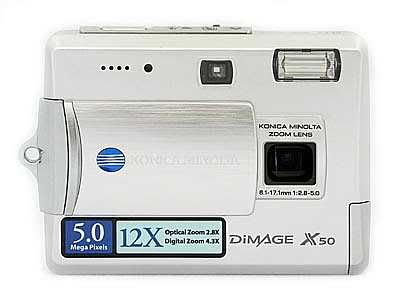 Ultra-compact digital cameras often seem to involve a lot of compromises and tradeoffs, but the DiMAGE X50 takes very nice photos under a wide range of conditions, and offers a decent range of exposure control (exposure compensation and white balance adjustments). With five megapixels of resolution, it also captures a lot of detail, more than most subcompact digital cameras, but it does fall prey to the problem of short battery life that plagues the category. While it runs seemingly forever in capture mode with the LCD turned off, the so-so accuracy of its optical viewfinder means that you'll have to rely upon the LCD to frame any critical shots, thereby cutting into battery life. This means that my standard recommendation of purchasing a second battery right along with the camera applies even more so to the X50 than to some competing models. Overall though, its compact size, solid feature set, and rugged all-metal case make the Konica Minolta DiMAGE X50 a great "take anywhere" camera, appealing to non-techies as well as enthusiasts. For the novice user, it's very easy to use and takes nice pictures. For more advanced users (taking myself as an example), it makes a great "second camera", something that you'd just toss in your pocket without thinking. If you want a camera that will satisfy both novice and more advanced users, and that gives you no excuse for leaving it behind, the Konica Minolta DiMAGE X50 is a great choice.
Read the whole article here...