Digital Camera Resource Page
have posted their review of the
Minolta Maxxum 7D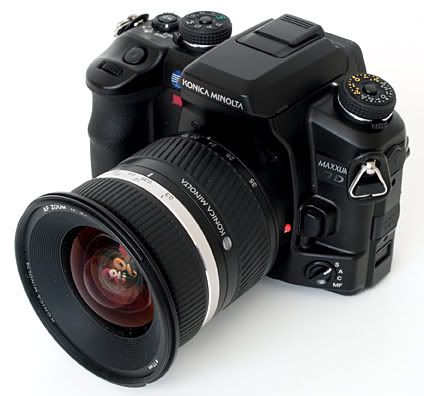 At first glance, the Konica Minolta Maxxum 7D ($1599, body only) looks like just another digital SLR. But look inside and you'll find a feature that makes it stand out from the crowd. That feature is KM's exclusive Anti-shake system, which has also been seen on several of their consumer cameras. This system puts the CCD sensor on a movable plane that can shift to compensate for motion. Other companies offer stabilized lenses, but since the Anti-shake system is on the sensor, it works with every lens you attach to the camera. Stabilizers like this help reduce the blurring effects of "camera shake", often seen in low light situations or when shooting at long telephoto distances. It won't work miracles, but it certainly helps.
There's a lot to like about the Konica Minolta Maxxum 7D, and I'm not quite sure where to begin, so I'll start with its design. The 7D is extremely well-built and offers plenty of dials and switches, as well as a large 2.5" LCD display. At first all those knobs seem a little intimidating, but I like how easy it is to change things in this way. At the same time, I wish some of them had locks, as I screwed up the metering on more than one occasion. The 7D is sturdy and easy to hold, thanks to a large, rubberized right hand grip. The camera enjoys full compatibility with all Maxxum AF lenses. But the real bonus here is the Anti-shake system: almost any lens you attach to the camera will have image stabilization, since it's the CCD that's stabilized and not the lens. And this system will help reduce the effects of camera shake when you're taking pictures indoors without the flash, or outdoors with a telephoto lens (though I didn't get the chance to test the latter).
Speaking of taking pictures, the photo quality was a bit of a weak point at first, but I quickly found a workaround for that issue. While some will disagree with my assessment that the 7D's images were too soft, I found that bumping up the in-camera sharpening by one stop made things a lot more tolerable. Otherwise image quality was just as you'd expect from a digital SLR: smooth and noise-free, even at high ISOs. And, as expected, camera performance is excellent in all areas, including in burst mode. The one exception is the speed at which the 7D reads and writes to the memory card -- it takes quite a while. Along those lines, real USB 2.0 High Speed support would've been nice.
The Maxxum has all the usual manual controls plus a few other nice things like time-lapse shooting and white balance by color temperature options. RAW and RAW+JPEG modes are supported, and you can choose from the sRGB or Adobe RGB color spaces. Finally, I like the info display on the LCD, and how it rotates when you turn the camera, and shuts off when you're using the viewfinder.
There are a few negatives to note, though. The 7D's weakest point (besides the soft images at default settings) is its price. With the body alone costing $1600, the Maxxum is expensive compared to other 6 Megapixel D-SLRs (you can buy the 8MP Canon EOS-20D for the same price). At the same time, none of the competition offers image stabilization built into the camera -- the question is, does that make it worth the extra dollars? I leave that question to you and your wallet. Another negative are the RAW conversion options provided by Konica Minolta, free and otherwise. The included DiMAGE Viewer Utility produces RAW images that are very soft, while the optional DiMAGE Master software destroys fine detail like grass. Your best option for RAW conversion at this point is Adobe's Camera Raw plug-in for Photoshop CS. Another possible negative to some folks is that using the AF illuminator requires you to take a flash picture.
All things considered, the Maxxum 7D gets my enthusiastic recommendation. It was a real joy to use, and I was satisfied with its photo quality after increasing the sharpness a notch. If you've got a collection of Maxxum lenses laying around, you probably already have a Maxxum 7D. If you're new to D-SLRs the decision is more difficult, as the competition is fierce in this area. There are cameras that are just as good or better in this class, and some cost hundreds of dollars less. None of them offer anything like the Anti-shake system, though.
Click to read the rest of this article...