DPReview
have just posted their in-depth
review of the Konica Minolta Maxxum 7D
(Dynax 7D) digital SLR. This Konica Minolta's first digital SLR for five years, it is based around the Maxxum 7 (Dynax 7) film SLR with a six megapixel CCD and Konica Minolta's unique Anti-Shake technology (which stabilizes the CCD rather than the lens). See how the 7D works, how it performed and how it compares to the competition.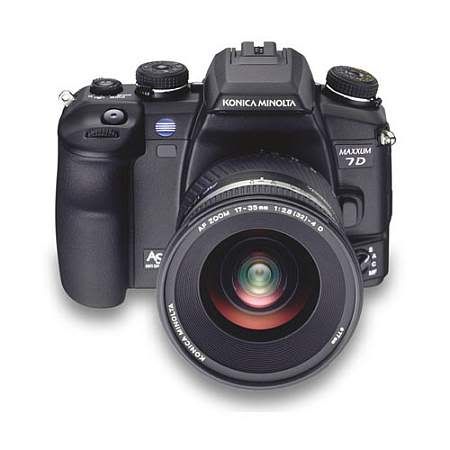 In use the 7D proved to be an excellent 'photographic tool', it feels good to hold, it's easy to change settings (thanks to the fact that almost all the major settings have external buttons / levers) and the camera feels responsive in use. The 7D is one of those cameras which I enjoyed using and encourages you to shoot more and experiment more (the availability and access to manual controls achieves this).

There's definitely been a lot of clever thinking implemented into this camera; the automatically orientating recording information display, the eye-piece sensor which blanks out the LCD, the design of the white balance lever, the locking of certain settings, the display of adjustments made in the viewfinder, the mirror lock-up implementation. It's satisfying sometimes to at least believe that the designers responsible for SLR's are also photographers.

The 7D's key feature, it's CCD Anti-Shake system appears to work, although I don't believe it's as good as lens based optical stabilization at longer focal lengths. Remember that because of the way it's implemented the 7D's Anti-Shake should give you a stop or two's advantage with any lens, without adding bulk, weight or cost. In our experience it worked better at shorter focal lengths.

Image quality was on the whole very good, it's as good as the best six megapixel digital SLR's and it's clear that Konica Minolta has worked hard on in-camera processing, detail levels are high at low sensitivities and noise is low higher up the ISO range (although images get softer). 7D images from the camera have a nice "look" which doesn't appear over processed or affected by artifacting or over-sharpening. We got the best results shooting RAW and converting with Adobe Camera RAW and were disappointed with the supplied DiMAGE Viewer and the optional DiMAGE Master.
Read the full article here...