Is this a sweet looking camera or what?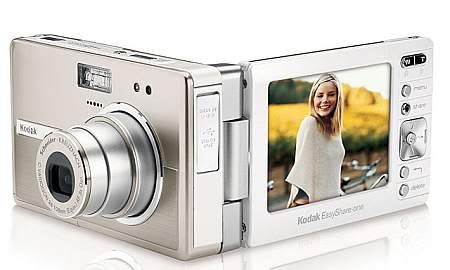 This Kodak EasyShare-One camera is the first consumer-level camera with support for Wi-Fi communication. It's a pretty slick package, as you'll see, but it ain't cheap. First-of-its-Kind Innovation Expands Picture-Sharing Possibilities with Storage for 1,500 Pictures; Wireless Connections for Instant Picture E-Mail and Printing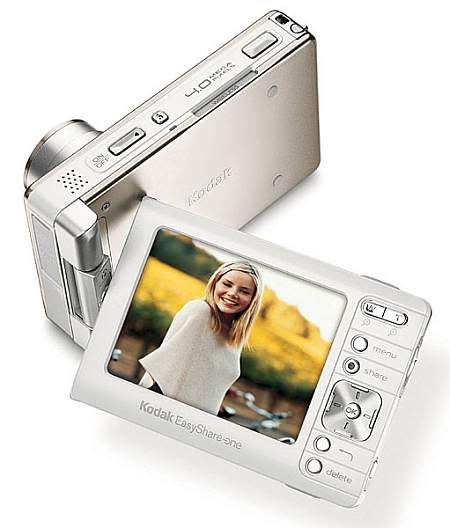 LAS VEGAS, Jan. 5 -- Eastman Kodak Company today unveiled KODAK EASYSHARE-ONE, a new digital camera designed as much for sharing pictures as for taking them. Kodak is showing the innovative camera for the first time at the 2005 International Consumer Electronics Show (Booth #31400; LVCC South Hall, Second Floor).
The EASYSHARE-ONE camera gives people extraordinary control over how and when they share pictures, whether on the LCD screen, online, or as prints. The camera is truly first-of-a-kind, with the ability to hold up to 1,500 favorite pictures for instant display on its crystal-clear, high-resolution, 3-inch touch screen display; direct picture e-mailing and online album viewing via a wireless connection to KODAK EASYSHARE Gallery (formerly Ofoto); and the capability to take high quality still pictures and video. No other digital camera gives people such extensive ability to take, organize, share and print their pictures.
"The EASYSHARE-ONE redefines what is possible with a digital camera. We're changing the digital photography experience from point-and-shoot to point-and-share," said Greg Westbrook, vice president, Eastman Kodak Company. "We have combined the power of digital picture taking, intelligent organization, the freedom of wireless, and sophisticated picture sharing into a single innovative product."
Read the full article here...