Eastman Kodak Company
today announced a new category of EasyShare digital cameras. The Kodak EasyShare Z-Series helps everyday picture takers get closer, better, more creative shots through extended zoom lenses. The Kodak EasyShare Z740 (10X optical zoom) and Z700 (5X optical zoom) digital cameras combine point-and-shoot flexibility and affordability with the photographic control granted by higher optical zoom ranges. Both models will be packaged with the new EasyShare Printer Dock Series 3, which makes real, borderless Kodak 4 x 6-inch pictures in as little as 90 seconds with just one touch.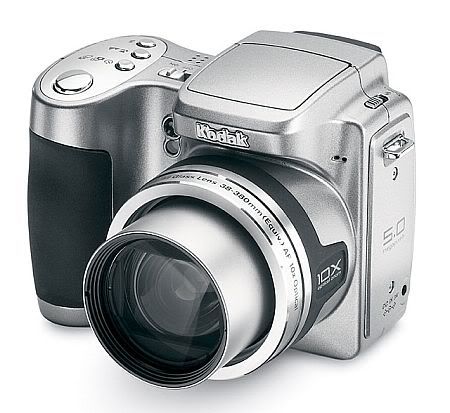 KODAK EASYSHARE Z700 digital camera
Designed for value-conscious, entry-level "zoom seeking" picture takers, the Kodak EasyShare Z700 digital camera offers 5X (35 - 175 mm equivalent) optical zoom, letting people get much closer to a subject than the 3X zoom lenses most commonly found in cameras in this price range.
Kodak EasyShare Z740 zoom digital camera
The Kodak EasyShare Z740 camera is ideal for people who want to get close to their subject, but enjoy the simplicity of a point-and-shoot digital camera. Its powerful 10X (38 - 380 mm equivalent) Kodak RETINAR aspheric, all-glass optical zoom lens can quickly zero in on a small object or distant scene, picking up the detail, color, and textures that a less powerful lens would overlook. The 1.8-inch, high-resolution, indoor/outdoor LCD screen and electronic viewfinder are designed for previewing a scene, or reviewing and sharing shots just taken.
Read the whole article here...