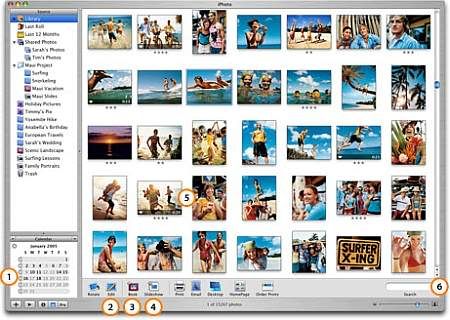 Apple today announced version 5 of image management software iPhoto (part of iLife 05), which adds RAW file support as well as the ability to import video clips. Other new features include Calendar View, which lets you see when you took photographs with a yearly or monthly overview, and a search field. iPhoto 5 also has a new suite of editing tools, a new advanced slideshow builder and more styles and choice of hard- and soft-backed books.
What's New in iPhoto 5?
There's something for every photographer. Import and work with RAW photos or even the video clips many cameras capture. Hierarchical folders and a new Calendar View offer new ways to organize photos. And a new search field lets you find photos as quickly and easily as you find songs in iTunes. We don't know which you'll enjoy more: advanced iPhoto editing tools, the creative options offered by fully-customizable iPhoto slideshows or the new softcover books available in three new sizes and low prices.
Read the full article here...