DPReview
have just posted their review of the
Fujifilm FinePix S5100 Zoom digital camera
and write:
Fujifilm's latest compact ten times optical zoom digital camera, the four megapixel S5100 / S5500. This camera follows in the footsteps of the S5000, the primary difference being the switch from Fujifilm's own SuperCCD SR to a standard square layout four megapixel CCD. This has had a slightly negative effect on some features (such as continuous shooting and video modes) but as you will see in our review a more positive effect on image quality. What's best about this camera however is value for money, at around $399 it really does offer a lot. This camera is known as the S5100 in the US and the S5500 in other regions.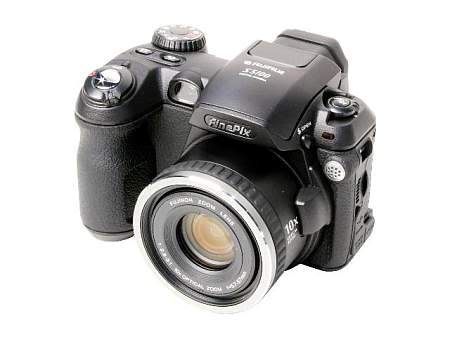 When we reviewed the S5500/5100's predecessor a year ago, Phil commented 'Throughout my time with the S5000 I was left wondering what would have been like had Fujifilm used a standard four or five megapixel CCD'. Well now we know; a lot better. All the positive attributes of the S5000, from the good design and handling to the impressive zoom range and wealth of photographic controls are now married to a sensor capable of doing them justice. And the result is a camera that offers an compelling option for those wanting a big-zoom camera on a tight budget.
Like the models that came before it, the S5500/5100 is designed to be a true 'photographer's camera'; offering true SLR-like handling, fuss-free operation, and plenty of options and controls, whilst remaining perfectly usable as a 'point-and-shoot'. The screen could be bigger, the EVF brighter and smoother, and the vignetting is something Fujifilm needs to address in the S5100's successor, but overall this is a significant upgrade to the promising, but flawed, S5000.
Finally, of course, image stabilization would be a seriously useful addition; albeit one that would almost certainly lead to a significant cost increase. As it stands the combination of price, features and reliable focus & exposure stsyems mean the S5100/5500 is pretty easy to recommend.
Read the full article here...