Casio today introduced a new addition to their EXILIM Pro family of digital cameras.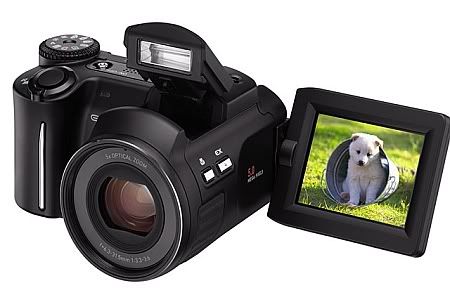 5.0 Megapixel and 5X Optical Zoom with High Quality Movie Capability
"We are very excited about this new addition to our award-winning EXILIM line. With the new EX-P505 you can now shoot videos and take quality digital photos. Casio's top-of-the-line EXILIM cameras are engineered for high image quality, high-speed operation, lower power consumption, and extremely compact dimensions," said John Clough, president of Casio, Inc. "We achieved these objectives through the use of Casio's remarkable "EXILIM engine," an extremely compact image module that represents the crystallization of Casio's advanced technology."
The new EXILIM PRO EX-P505 is a high-performance digital camera with an amazing high- quality video capability. The EX-P505 features a 5X optical zoom, an imaging CCD with 5.0 mega effective pixels, Casio's "EXILIM engine", and a large 2-inch TFT color rotating screen that makes angle shots a snap. It offers the same manual operation made famous by the EX-P600, as well as high-quality video shooting capability of 30 frames per second, in VGA size, thanks to the incorporation of MPEG-4 technology.
Authentic manual shooting of photo subjects
* CCD with 5.0 mega effective pixels and the Exilim engine assure detailed images
* Optical 5X zoom lens with macro shooting down to 1 cm
* Super Life Battery gives approx. 220 pictures per battery charge (CIPA standards*)
*CIPA standard "Standard Procedure for Measuring Digital Still Camera Battery Consumption":
* High-speed startup enables shooting only 0.8 seconds after the power is turned on*
*With internal flash off, using internal memory
* Release time lag of only 0.01 sec. means images are recorded approximately 0.01 seconds after the shutter is released*
* With internal flash off
* High-speed picture playback of approx. 0.1 sec. interval
* Automatic power ON/OFF when the LCD panel is opened and closed
* "BEST SHOT" function: 22 different types of shooting possible by simply selecting a scene from various samples
* Flash automatically pops up when needed. (Auto pop-up flash)
* Aperture priority, shutter speed priority and manual exposure modes can be selected
* "EX Finder" shows shooting information by easy-to-understand graphics
* Various manual settings can be quickly set on a single screen (EX Button)
* Various shooting effects possible by changing the manual settings are shown in sample images (Manual Assist)
High-quality video shooting
* MPEG-4 format used to enable long-playing video shooting
* VGA size (640 x 480) pixels), 30 frames/sec, stereo audio high-quality video possible
* Optical 5X zoom lens with macro shooting down to 1 cm
* Movie BEST SHOT: select a scene* from among the samples to achieve the desired shooting effect
*Note: 5 different scenes: Portrait, Scenery, Night Scene, Fireworks, Silent
* Approx. 2 hours of movie shooting on a single battery charge (continuous recording).
* Past Movie function enables video recording to begin from five seconds before the shutter is pressed
* Short Movie function enables up to eight seconds of movie to be taken during a single shutter
* MOTION PRINT function enables either 9 or 1 frames to be converted to a still photo
* Movie Playback Zoom function enables zoom display during video playback
* Three types of Movie Editing operation (before, during or after) can be used to eliminate unwanted scenes
Other features
* New compact body reflects the high performance features of this stylish line of cameras
* Large 2-inch TFT color rotating LCD panel enables angle shooting
* High-speed USB 2.0 compatible for high-speed image transfer
* Both still images and video images can be viewed on a television or monitor
* Photo Loader PC software included to enable automatic transfer of images to the user's personal computer
* Windows Media Player 9 video playback software and Ulead Video Studio video editing software included
* Menu display can be set in 10 languages, including Chinese (simplified and traditional), English, French, German, Italian, Japanese, Korean, Portuguese, Spanish
* Compatible with PictBridge specifications for direct connection to a printer
* ExifPrint (Exif 2.2) and PRINT Image Matching III compatibility

Another article on this camera here