By Mike Pasini, The Imaging Resource
(Saturday, December 11, 2004 - 00:43 ET)
"It's been over two years since Elements has been updated. It wasn't broke, but at that rate, Adobe might be. Still, how could Adobe possibly improve its competent entry-level image editing software famous for its extraordinary HTML Help and Tutorials on image editing?

Well, Adobe is not an ordinary company. Sometimes we wonder if it's a company at all. It seems more like a movement. A movement inspired by the Spot and then the Pixel. There's always more to Adobe than meets the eye.

For a peek under the hood of this forward-looking release, read our review."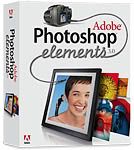 "Digicams take great pictures and most organizing software now includes rudimentary image editing commands to handle things like rotating the image, fixing redeye and correcting color balance and contrast. But you may find yourself yearning for more.

Image editing doesn't come naturally, however. Bravo to Adobe for building such a comprehensive help system with integrated tutorials and tips. It's among the best training material for image editing we've ever seen.

And with the improved interface, Elements 3.0 encourages you to take your images farther than your camera can. Of course, it includes those rudimentary and automatic fixes most programs offer. But there's also a lot of fun built into this program that makes it a pleasure to play with your images. And even more, under the hood is an engine that is pointed to the future of imaging."