Successor to the popular Caplio R1, the Caplio R1V is a powerful 5.0 megapixel digital camera with a 28mm wide-angle, 4.8x optical zoom in an exceptionally slim 25mm body.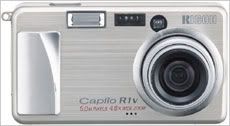 Main Features
28mm wide-angle lens presents infinite possibilities
The versatility of the Caplio R1's 28mm wide-angle lens makes taking photos even more exciting and enjoyable. The lens is perfectly suited to capturing the beauty of wide open landscapes. A large number of people can also fit into group photos without the photographer standing back an unreasonable distance. And, when space is limited and the subject would normally fill up the viewfinder and obscure the background, the Caplio R1's wide-angle lens has the scope to incorporate the background into the shot. Its 75-degree angle of view enables near-panoramic swaths of scenery to be included on a single image far more than is possible with the 62 degrees offered by conventional 35mm digital cameras. The applications and advantages of the 28mm wide-angle lens are innumerable.
Also of note:
-Super quick shutter response to capture the perfect moment
-Innovative lens mechanism allows a 4.8x optical zoom to be housed in an ultra thin 25mm body
-Creative photography with 1cm macro mode
-Three power source options put an end to battery problems
Read the full article here...