by Jeff Keller, DCRP Founder/Editor
Originally posted: September 4, 2004
Last Updated: December 12, 2004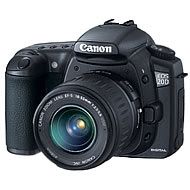 "I'll be blunt: the Canon EOS-20D is the best reasonably priced digital SLR that I've tested. And by reasonably priced I meant under $2000. There's so much to like about the 20D, I don't know where to start. Photo quality is excellent, with photos having an ultra smooth look to them. Color and exposure were both accurate. Personally I'd crank the sharpness up another notch, but that's just me. Noise levels are very low, even at ISO 1600 -- try that with your fixed-lens camera!

Camera performance is first rate, from an instant startup to nearly zero shutter lag or shot-to-shot delay. Continuous shooting performance is amazing, as well. I was able to take fifty-five 8 Megapixel JPEG images in a row at 5 frames/second before the buffer filled up! As you'd expect from a D-SLR, there are full manual controls, including an unlimited bulb mode. The 20D goes a step further than most D-SLRs with its powerful white balance adjustment features. And, like all D-SLRs, the 20D is expandable, with support for both EF and lower cost EF-S lenses, numerous flashes, remote controls, and much more.

Build quality is excellent -- the 20D absolutely feels like the expensive camera that it is. The body has been refined a bit since the 10D, and I appreciate the changes, especially the new joystick on the back. The camera uses the powerful BP-511A battery which can take a whopping 1000 shots per charge!

When you connect the camera to your Mac or PC, you'll be able to take advantage of the USB 2.0 High Speed standard, for fast image transfer. FireWire would've been nice, though. The bundled software is pretty darn good, though I would've like a more refined user interface for Digital Photo Professional (at least on the Mac).

Trying to find fault with the EOS-20D is a difficult task. In fact, my two or three complaints are mentioned in the previous paragraphs. It's just that good. Now, for some buying advice. If you're stuck between the D70 and 20D, I'd choose the 20D without hesitation. If you've got a Digital Rebel and want higher resolution, more controls, and faster performance, I'd say go for it. If you have a 10D then I wouldn't be as quick to recommend an upgrade -- see if the 20D's improvements are what you need before you buy."
Come on Jeff, tell us how you really feel.
Read the whole article here...