The folks over at Buy-n-Shoot.com have posted this interesting sounding pocket guide.
"Mastering Digital Photography [Pocket Guide] provides a wealth of information on how to use digital cameras and printers effectively, plus some fun things to do with digital photos and step-by-step instructions for a number of important editing tasks.

This guide will also help camera buyers to choose cameras and printers that will meet their needs and select models with the functions that make them enjoyable to use."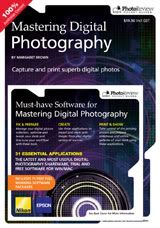 To visit the Photo Review magazine website
click here