Digital Photography Review has just release their review of the Pentax Optio S5i, a 5 megapixel compact with lots of control and quick response.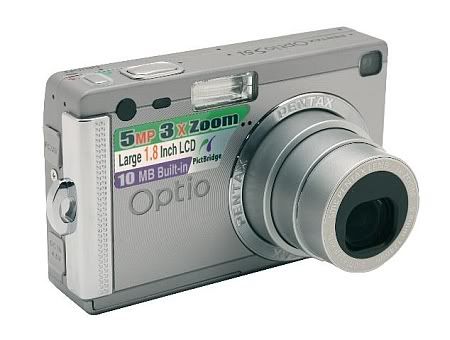 Their Overall conclusion:
"In an ever-growing sub-compact market the Optio S5i has much to recommend it; it's probably the lightest - and one of the smallest - in its class, has fast focus, no discernible shutter lag, lots of useful features and is a real joy to use. It's also very well priced for a 5MP compact. On the downside the image quality is good, but not great, the low light focus is a little hit and miss (though better than you'd expect given the lack of an illuminator) and the LCD can be difficult to see in dim conditions. That all said, my only serious problem with the Option S5i was the poor shot-to-shot performance and unimpressive burst mode.

As with all these ultra-compact cameras I'd suggest downloading some of the samples - as well as those for the Nikon Coolpix 5200, Panasonic FX7 and Canon PowerShot SD300 - and decide for yourself whether the image quality is up to your standards; I would personally be more than happy to slip the S5i into my pocket on the days I didn't want to carry a bigger camera."
Read the full article here...