The Imaging Resource has posted a review of the Pentax Optio S5i Digital Camera, a feature rich ultra-compact sporting 5 megapixels. Everything you need to know about this camera is here.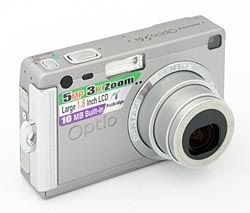 Their conclusion:
"Overall, the Optio S5i is amazingly full-featured for a subcompact model, delivering good (although slightly understated) color and tone in an incredibly tiny package. If you're looking for an ultra-compact camera with a full feature set, the Optio S5i is hard to beat. The camera's 5.0-megapixel CCD produces very high resolution images, and the camera offers a wide range of preset shooting modes and exposure control options to suit a range of user levels. Excellent for travel and as a "take anywhere" camera, the Pentax Optio S5i arguably packs more photographic capability per cubic inch than anything else on the market."
Read the whole article here...