DPReview have posted their review of the Panasonic Lumix DMC-FX7, bigger brother to the FX2 announced at the same time. The diminutive 5 megapixel FX7 is the only compact camera on the market to feature a stabilized 3x zoom lens, using Panasonic's proprietary MEGA O.I.S (optical image stabilization) technology.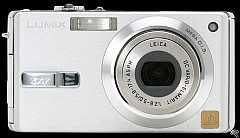 It has a large 2.5-inch LCD and, according to Panasonic, has improved responsiveness and performance. Check out our concise review to see if the FX7 will be going on your Christmas list this year.

As with the recently reviewed Canon PowerShot SD300 (IXUS 40i) the DMC-FX7 is the perfect pocket camera as long as you don't expect miracles and are prepared to accept a certain amount of compromise on features and image quality.