Digital Camera Resource Page
have reviewed the Olympus D-590 Zoom digital camera and write: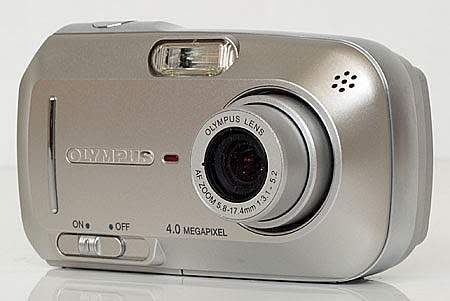 "The Olympus D-590 Zoom is a fairly unremarkable point-and-shoot digital camera best suited for outdoor vacation pictures. I say this because low light focusing and LCD visibility weren't great, redeye levels were above average, and the lens is on the slow side (in terms of aperture, or how much light is let in). Photo quality is good for the most part, though there are some issues with "fuzzy" details and soft edges at times. Performance is comparable to other cameras in this class. The D-590Z is easy-to-use, with absolutely zero manual controls. There are some useful scene modes, though an action mode would've bee nice. The bundled Olympus Master software is quite good, especially compared to what the some of the competition throws in the box.

Some other negatives worth mentioning include noisy low light images (due to an auto ISO function), so-so battery life, and the lack of an optical viewfinder. I also had trouble with the white balance for my macro test shot, but this really shouldn't be an issue for most people. The D-590Z's movie mode also leaves something to be desired, but it's comparable with what most of the other cameras in this class offer. And finally, I always have to get in a complaint about the full manual only being on CD.

All-in-all, the D-590Z is decent, but there are better options out there... "
Read the full article here...