Megapixel.net have reviewed the Olympus C-7000. I see Olympus has replaced their ugly menu system with a more updated look.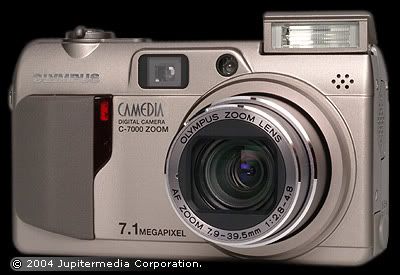 "The C-7000 is equipped with a 1/1.8 inch CCD with 7.41 million pixels of which 7.1 million are effective to capture photos measuring 3072 x 2304 pixels. Sensitivity starts at 80 ISO and can be increased to 100, 200 or 400 ISO. In addition, an Auto setting lets the camera increase sensitivity as required without any user intervention.

The C-7000 is a new design for Olympus, and while the camera offers a multitude of shooting modes and functions, the body is clearly made to be perceived as a compact, since it has relatively few external controls and relies mostly on the menus.

In use, the camera is comfortable to hold and the layout of the controls is quickly familiar. Moreover, the C-7000 is fast — the camera is ready to shoot in about 1 second — and reacts just as quickly to its controls."
Read the full article here...