Imaging Resource checks out the Nikon Coolpix 8400, Nikons latest 8 megapixel prosumer digital camera which captures pictures at up to 3264 x 2448 pixels, and comes with a wide angle 3.5x zoom, a 1.8-inch swivel LCD, and excellent battery life. Though missing the anti-shake technology that the Coolpix 8800 has, its wide angle zoom (one of the widest current available) is unique and perfect for realtors, while the fast shutter response is good for continuous shooting.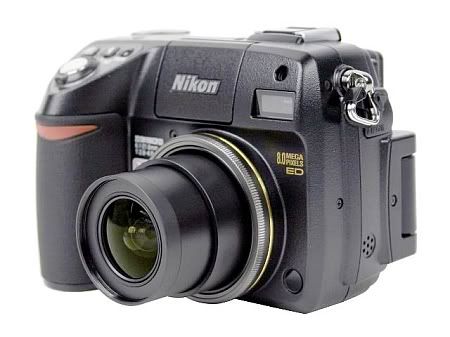 "Announced September 16, 2004, the Nikon Coolpix 8400 fills-in the high end of Nikon's "prosumer" lineup. It incorporates most of the features of the top-end 8800 model, minus the 8800's anti-shake system and long zoom lens. With one of the widest-angle zoom lenses on the market (extending down to 24mm equivalent focal length), the Nikon 8400 marks out territory of its own though, as an ideal high-end digital camera for anyone forced to shoot in confined spaces. (Realtors come immediately to mind.) With an 8-megapixel sensor, a 3.5x zoom lens with ED glass, and the panoply of advanced features we've come to expect from the upper end of Nikon's digicam line, the Nikon 8400 is designed to compete at the middle of the "prosumer" digital camera market. At the same time though, optional fully automatic operation and a rich collection of 12 "scene" modes make it easy for even rank amateurs to use. All in all though, the new Nikon Coolpix 8400 is probably going to be most appealing for the new possibilities offered by its ground-breaking 24mm equivalent wide angle lens."
-
Read on for all the details
!