Wireless Digital Media Player (Model MP115) Bridges Gap Between PC Digital Content and Home Entertainment Systems, Delivering Digital Video, Photos and Music Over Wireless Networks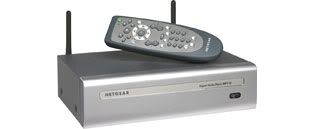 SANTA CLARA, Calif. — December 22, 2004 — NETGEAR®, Inc. (Nasdaq: NTGR), a worldwide provider of technologically advanced, branded networking products, today announced its easy-to-use networked digital home entertainment solution, the NETGEAR Wireless Digital Media Player (MP115). As the latest addition to NETGEAR's family of digital entertainment solutions, the Wireless Digital Media Player provides simple, affordable access to video, photo, and music file collections from anywhere within the home network. Parents can share digital home movies and slideshows and kids can stream their favorite MP3s and online radio stations through their television sets and home entertainment systems – all without leaving the comfort of the couch.
The NETGEAR Wireless Digital Media Player (MP115) streams digital media content wirelessly...
Read the whole article here...