CNET
have reviewed the Fujifilm FinePix E550 and awarded it a 7.2 rating.
Reviewed by David English
Edited by Lori Grunin
Reviewed December 9, 2004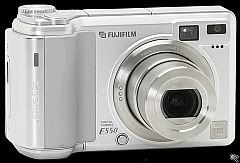 "What are the most important qualities in a compact digital camera? If your answer is a high pixel count, a large LCD screen, and lightning-fast response, you're a good candidate for the Fujifilm FinePix E550. With its 6-megapixel sensor; big, 2-inch display; and 4X optical zoom, the E550 comes well equipped for both novices and intermediate users. Photo buffs will enjoy the relatively low-noise ISO 800 images and the generous assortment of manual settings. And just about anyone will be impressed by its fast performance. Best of all, the E550 serves up this unusual mix of features and capabilities for a competitive price."
Read the full article here...