Imaging Resource has posted a Quick Review of the Fuji FinePix A340 Digital Camera, a family, entry-level camera.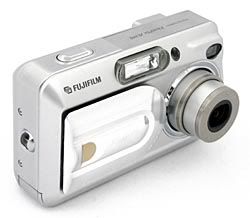 They write:
"Known for great color and performance, Fuji has also carved out a niche for itself by consistently providing good-quality consumer digicams at rock-bottom prices. The latest in their line of bargain-priced cameras is the Fuji FinePix A340, a 4-megapixel digital camera. The Fuji A340 carries on the value-leading tradition of Fuji digital cameras by offering a 4.0-megapixel CCD and 3x optical zoom lens at a low price, and including a longer maximum exposure time of two seconds and four preset scene modes. As you'd expect, the Fuji FinePix A340 trades off a few features and capabilities to achieve its remarkably low cost, but the camera still takes good-looking pictures in daylight conditions, and is simple enough for even rank beginners to get started with."
Read the whole article here...