Digital Producer Magazine has an article about a new companion training DVD to Photoshop Elements 3.0 from Total Training. With all of these devices in the hands of amateurs, millions of digital images are floating in the digital domain, just waiting to be edited. Adobe Systems, after a three year wait, updated its entry level image editing application, Photoshop Elements , and Total Training , a purveyor of digital media training videos, released a companion training DVD to Photoshop Elements 3.0.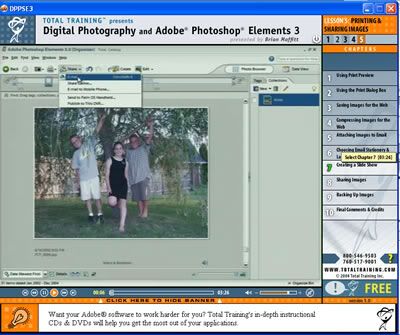 The DVD opens with Digital Cameras (31 minutes), which covers the fundamentals, Taking Digital Pictures, Camera Do's and Don't Do's, and Moving Photos to your computer. Host Maffitt briefly discusses the history of cameras, and how we got to digital cameras . He touches on the various differing digital "films" that digital cameras use, and offers some buying tips when it comes to batteries.
Video as a training tool really helps to visualize what it is exactly the points on topic that you are trying to convey. Having it explained in static format, such as in a magazine or book, is a lot more difficult than just watching a video. You can't really get a grasp for what is trying to be communicated. For those who want to know Photoshop Elements 3 but don't want to read the manual, or want a supplement to the manual, and would prefer a visual guide to help learn all the major tools of Photoshop Elements 3, Total Training 's Digital Photography and Adobe Photoshop Elements 3 offers that solution, and at $49.95, it is a bargain, especially if you want to harness some of the hidden power that is in the application.
Looks like a great gift to me.
Read the full article here...