Nikon has posted a new firmware upgrade for the COOLPIX 3100. This guide describes how to upgrade the camera firmware for the COOLPIX 3100. If you are not confident that you can perform the update successfully, the update can be performed by a Nikon service representative.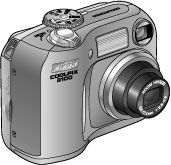 Issues addressed with firmware version 1.3
The camera's transfer button can be used with PictureProject to transfer pictures to a computer.


A problem that caused pictures of bright subjects taken with firing of the built-in Speedlight to be under-exposed has been corrected.
Read the whole article here and download the update.