The Panasonic Lumix DMC-FZ20 offers a 5 megapixel resolution and a 12X stabilized Leica zoom. Nice!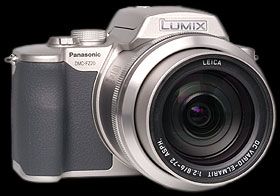 The big lens of the DMC-FZ20 forms an image on a 1/2.5 inch, 5.36 million pixel, CCD of which 5 million pixels are effective when capturing a maximum image size of 2560 x 1920 pixels. CCD sensitivity starts at 80 ISO but can be pushed to 100, 200 or up to 400 ISO. Moreover, and an Auto ISO mode can be used, allowing the camera to automatically adjust sensitivity.
Read the full review of the Panasonic Lumix DMC-FZ20 here
.