from PhotographyBLOG
: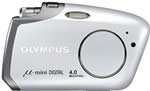 "Olympus UK Press Release 16/11/04 Dressed to impress The Olympus Mju - mini DIGITAL receives inaugural DIWA Design Award The Mju - mini DIGITAL's fresh and revolutionary look exudes attitude. It's sleekly curved profile, coupled with a choice of six stunning coloured designs makes the Mju - mini both chic and individual.
The uniquely moulded design has lead to The Digital Imaging Websites Association (DIWA), a recently established website association that seeks out the best in imaging products, bestowing its inaugural Design Award on the camera in recognition of its unique construction.
In announcing the award the DIWA jury described the Mju - mini as "a radical diversion from traditional camera designs which unlike many other design products is not an overpriced collector's item for the few, but a useful imaging tool for any design conscious lifestyle enthusiast."