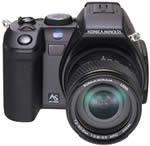 Megapixel.net have today reviewed the 8 megapixel Konica Minolta DiMAGE A200 digital camera, which incorporates anti-shake technology and a swivelling LCD monitor.
The new Konica Minolta DiMAGE A200, to be released in North America in late November or early December, borrows a great deal from the design of the DiMAGE A2, but streamlines the body and omits some of the features of the A2 while enhancing others.
The A200 has a polycarbonate body, finished in a very professional looking flat black. With an overall shape reminiscent of an SLR type camera but considerably smaller, the A200 provides an ergonomic rubber-clad grip and a similarly rubber-covered thumb rest on the upper back.