written by Sandesh M. of ByteSector
With its folded up backsides, and small dimensions, the 375 looks like a toaster designed by Apple. Its lines are very smooth, it has a clean look and it looks inviting. The tilt-up screen is a great addition, and it tilts up far enough for you to be able to operate the printer while sitting in front of it, not above it. When they pop out, the back panel becomes a tray that holds up to 20 photo blanks, and the front panel reveals slots for every kind of memory card, and a tray for printed photos. The Photosmart 375 is a clean, good looking printer that doesn't let form get in the way of function.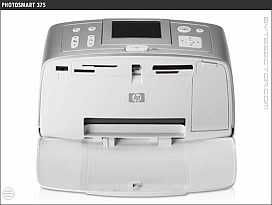 Aesthetics
Weighing in at just 2.6 pounds and with dimensions of 4.5 by 8.7 by 4.6 inches, the Photosmart 375 is very compact and easy to transport. The sides of the unit come folded up, both to protect it and to conserve space. At the press of a button, the back and front panels pop out, and the 2.5 inch LCD screen pops up; and that?s all it takes for the Photosmart 375 to be ready to print. An optional power pack is available, which lets you operate the printer without even having to plug it in. The printer is incredibly portable, and its connectivity is even better.
Read the whole article here...