Steve's Digivams has written a fairly extensive first look at the new Pentax *ist DS SLR
"PENTAX has downsized digital SLR photography again with the *ist DS digital SLR. Even smaller than last year's *ist D SLR, the *ist DS is one of the smallest and lightest digital SLR cameras available. Measuring just 4.9 x 3.6 x 2.6 inches and weighing under 18 ounces, it has a durable stainless-steel chassis, multi-layered electronic circuit boards and delivers superior image quality in a very compact design. Despite its size, the *ist DS offers 6.1 million effective pixels of resolution and PENTAX original image processing technology. The camera is compatible with most existing PENTAX interchangeable lenses to meet a wide range of applications and visual creativity.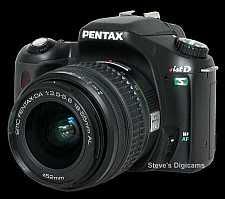 The *ist DS hosts an array of advanced, user-friendly features including a high-magnification viewfinder, a 2.0 inch color LCD monitor, a generous LCD data panel, and an innovative Auto picture mode for automatic selection of the proper exposure program. Offering quick, effortless operation and easy portability, the *ist DS is the ideal digital SLR for all levels of photographers, including first-timer digital SLR users and families. The *ist DS is equipped with a true glass pentaprism viewfinder offering a 95% field of view and a 0.95X magnification. The camera features a large, bright viewfinder image equal in size, clarity and brightness to viewfinders incorporated in conventional 35mm-format SLRs.
The *ist DS is equipped to make camera operations simple and effortless for the user. From the multi-function four-way controller to the responsive electronic select dial and the large, easy-to-use mode dial, all switches and dials are efficiently and functionally laid out around the *ist DS's compact body to assure smooth, fingertip control. Its innovative Auto picture mode automatically and instantly selects the optimum combination of exposure settings for a given subject or situation, including shutter speed, aperture, white balance, saturation, contrast, and intensity of edges. The built-in auto flash automatically pops up in dimly lit or backlit situations. The *ist DS records up to 8 images consecutively at a speed of approximately 2.8 frames per second, allowing the user to capture a series of the subject's action or movement.
A wide range of compatible PENTAX lenses are available for use with the *ist DS including K, KA, KAF, and KAF2 mount lenses; screw mount lenses, 645, and 67 series lenses (adapter required). Some functions may not activate depending on the choice of lens."
Read the whole article here..